Posts Tagged 'development'
The Softball Community welcomes SIU-E head coach Sandy Montgomery who will be joining Brett Swip as they discuss some of the hot topics around college recruiting. This is a free discussion for anyone that would like to attend. These two will have an "open mic" concept as they go back and forth on different recruiting topics, things recruiters see, what they are looking for in athletes, what they see in Midwest Softball and much more. This is simply and come and listen to vital information that comes straight from a D-1 coach, not so much a question and answer session. These two brains are not something you want to miss! This will take place at the VFW in Collinsville.
Sandy Montgomery from SIUE,
and Brett Swip from Extreme Baseball & Softball Club.
These two coaches will be having an open dialogue session to discuss the Midwest athlete and how they can increase their opportunities to be recruited for college scholarships.
Details
WHEN: Sunday, August 2nd
WHERE: Collinsville VFW, 1234 Vandalia, Collinsville IL 62234
TIME: 7 – 8 pm
COST: FREE
Why You And Your Family Should Be There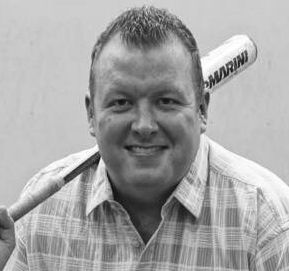 Understand firsthand how a college coach evaluates talent
Learn the responsibility of club and select teams in
developing recruitable players.
Gain perspective on the number of high-level scholarships available each year and how they are distributed Nationally.
We are changing the model for athletes and coaches going into this year. Instead of putting the pressure on the individual development we are rolling out a team development philosophy. It's time our network is leveraged for the benefit of every team and athlete in our club. The knowledge and experience of veteran coaches will be put to work around getting better outcomes in a team's hitting and defense, pitching and catching, athleticism around velocity relative to our sport. Our team fees reflect your athlete's development – an example is your child academic system.
Schools have support systems that help their students in need. Examples of that support system are an ACT prep classes or an academic tutor.   An athletic program needs to have a support system for each team as well. The lifeblood of the athletic program has to be the curriculum & philosophies that will transfer as an athlete grows in their sport.   Students have class time to learn the curriculum and then are tested through exams. In the athletic world the classroom is team practices and the exams are team games.  By using veteran coaches to run skill development with your athlete's team we are developing a plan to allow consistent coaching throughout the organization. Similar to school, if a student is struggling they reach out for individual attention or take a special class.   Same applies to an athlete struggling with a specific skill. Private instructors or camps should be used with an athlete when they are falling behind on their development inside our programs curriculum.
Team sports require team philosophies around the skills of the game. The success of the team should not solely be dependent on an individuals training plan. It should be supported more by team implementation of the curriculum. We use team practices to bring in our veterans and develop your athlete's team and individual skills. By joining the Extreme you assure your athletes are being mentored with the end in mind – outcomes of the game! If we want to defend against a great bunt then as an organization we need to be teaching a unified bunt defense that has clear expectations and execution points to ensure success as our athletes grow in the organization.   We are going to provide you the complete athletic curriculum to ensure your athlete achieves their athletic goals.
So as you gather information on how to provide the 3D experience for your athletes, remember your team fees include your athlete's skill development. We will provide you the classroom, the book, and all the exams and if your athlete falls behind we will be there with recommendations for private tutoring around their struggles.
The discussion around youth sports continues to heat up. Our society is STRESSED and our youth sports culture is no different. Much of the stress comes from youth sports not being transparent.  Where is the plan? What are we doing this year, and the next? Coaches are not intending to withhold that information, the honesty is most don't know how to look that far out in advance and plan everything it takes to develop their team and the costs that go along with that. The Extreme Way was created to effectively and openly communicate to the parents upfront what this year would look like for their kid and what each year after that would look like as they grow and mature in sports. By creating a roadmap the Extreme Way helps coaches navigate the progress of their team year in and year out making transparency a top priority for the parents.
Parent benefits:
Allow parents to see when the increased commitments around time and finances will occur so they are prepared for it.
Eliminates reactionary responses, last minute decisions, and lowers stress.
Eliminates Parent Peer Pressure – that need to say yes to everything until you have to say no to even a small thing. No more worry of your child being left out or their development not being the caliber of other kids on the team.
Less financial worries
Transparency around your kid and their path through youth sports
Kid benefits:
Calendar of events that supports the kids to plan and participate in multi-sports activities
Diversification by being active in other school functions and activities
Fight against burnout in sports with age appropriate commitments that increase as the get older.
Playing for coaches who have a plan and who can focus on a deeper relationship with your kid and supporting their youth sports experience.
Sports Injury prevention by having professionals oversee their development in key areas of the game.
Transparency solves many problems for a team. The Extreme Way is our commitment to the families that your kids development is being considered from all angles. We will not operate a week at a time, we know what a great 3D athlete looks like at the end of their youth sports experience and we are committed to helping our coaches put in a progression that gives each kid a chance to develop and fall in love with the game.