Baseball & Softball athletes deal with an increase risk of injury due to the constant strain the game puts on their bodies. From planting, rotating, exploding, stabilizing, core activation, and arm whip their bodies are constantly being challenged to stay healthy.   We have refocused on injury prevention for our athletes as we launch the Extreme's 17th year.
Professionals brought in through the Extreme Network have been brainstorming on the trends of our sport & the strengths and weaknesses of our Midwest athletes. They have created a standardized warm-up system that is tailored for our program goals and needs.   The depth of professional input that was used to create these standards is a first for our program on this large of a scale.   Our program now benefits from a professionally designed program with 2 purposes: 1) to increase our athletes' velocity and 2) to decrease their risk for injury.
Extreme Baseball and Softball teams go through a consistent warm-up that progresses and reinforces movement and athletic positions that every viable and healthy baseball or softball athlete need to enjoy years of competition.
The Extreme Baseball & Softball Warm-up System focuses on increasing the temperature of the muscles to increase the speed of nerve impulses, making our athletes faster. They will also experience an increase in range of motion at the joints reducing the risk of tearing muscle & ligaments.
Here are the basic themes of the warm-up that all of our athletes complete:
Increase Heart Rate
Dynamic Stretch

After we increase the heart rate and pulse the muscle temperature has increased and are more elastic, reducing the risk of injury.

Agility & Coordination

Agility requires a combination of balance, speed, strength, & coordination.   After our dynamic stretch athletes are primed to work on increasing their rhythm and output in these areas.

Shoulder/Rotator Cuff warm-up prior to throwing

Increase blood flow to the shoulder prior to throwing reduces the risk of injury.

Throwing Progression with focus points on mechanic efficiency + proper force and inertia increase as quantity of throws increase.

Many athletes come out and throw the ball as hard as they can from the start. Doing this increases their potential risk for injury greatly. By taking our athletes through a progression with focus points around mechanics, force, velocity, and timing we build healthy habitual habits they will lean on for years to come.

Cool down for our athletes includes mobility focused stretching + flush exercises to help increase range of motion and recovery.

Mobility and flexibility of the joints, muscle tissue, ligaments and tendons surrounding the joint is crucial for maintaining a healthy body that can withstand large quantity of reps and temperature changes prevalent in the mid-west.
Our game is being increasingly challenged to be safer. The Extreme Baseball & Softball Warm-up System will be one solution for our coaches and players to increase our athlete's safety.
Hard Ball Talks
Date: September 28, 2015
Guest:  
Cindy Zelinsky, owner of Absolute College Consulting.  You can learn more about Cindy and her college preparation programs at 
www.absolutecollegeconsulting.com
.
Topic:  Cindy's experiences as an educator, collegiate coach and parent have provided her a unique perspective on the process of finding the right fit when it comes to pursuing a college education.  As youth coaches and parents, we see college recruiting through the lens of ESPN glamour, but in this HBT, we discussed real college preparation with Cindy.
The Softball Community welcomes SIU-E head coach Sandy Montgomery who will be joining Brett Swip as they discuss some of the hot topics around college recruiting. This is a free discussion for anyone that would like to attend. These two will have an "open mic" concept as they go back and forth on different recruiting topics, things recruiters see, what they are looking for in athletes, what they see in Midwest Softball and much more. This is simply and come and listen to vital information that comes straight from a D-1 coach, not so much a question and answer session. These two brains are not something you want to miss! This will take place at the VFW in Collinsville.
Sandy Montgomery from SIUE,
and Brett Swip from Extreme Baseball & Softball Club.
These two coaches will be having an open dialogue session to discuss the Midwest athlete and how they can increase their opportunities to be recruited for college scholarships.
Details
WHEN: Sunday, August 2nd
WHERE: Collinsville VFW, 1234 Vandalia, Collinsville IL 62234
TIME: 7 – 8 pm
COST: FREE
Why You And Your Family Should Be There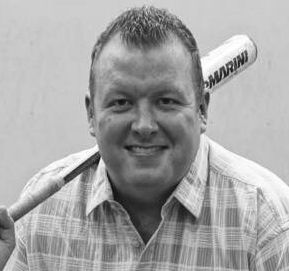 Understand firsthand how a college coach evaluates talent
Learn the responsibility of club and select teams in
developing recruitable players.
Gain perspective on the number of high-level scholarships available each year and how they are distributed Nationally.