"I love this game because many 
people loved me through the trials and tribulations of the sport growing up. Extreme cares more about the people the kids will grow into than the win/loss record."
 By Jen Doehring
Dear Extreme,
Pillar – a person or thing regarded as reliably providing essential support for something.
Character – the mental and moral qualities distinctive to an individual.
It's been nine years since I played my last competitive fastpitch softball game. In the summer of 2007, I was 26 years old when I was playing with some friends one final time before opening Turn 2 later that fall. Somehow I knew it was my last go around playing the sport that I love.
Fall of 2007 brought on many new experiences and milestones in my life. New business, new hometown, and new role on the field – Head Coach of the 10U Extreme Softball Club.
I was hesitant to jump into the coaching world after graduating and finishing my collegiate career in 2004. Summer teams were contacting me asking me to coach their daughter's team and telling me what they would pay me to do so. Seemed a little odd to me. I was in a bit of a culture shock – paid to coach a summer ball team? Were they serious? Something just didn't sound right about that.
Two years after graduating college, I was sitting down at a small deli by Webster University with a mentor and friend, Cindy Zelinsky. She was introducing me to Webster University's Head Softball Coach, Brett Swip. Cindy knew I planned to open a training facility on the IL side of the river later that year, and she also knew I needed a home for the upcoming winter months. After a little bit of talking with Brett, I quickly found out he had a passion for youth sports, softball in particular. Brett and Pete Hoffman, Collinsville High School softball coach at the time, co-founded the Collinsville Extreme as a way to provide opportunities to the girls who played for Coach Hoffman's high school team. Brett's sister was playing for Coach Hoffman and he made the trek home to help Pete run the team. What began as a humble vision in 1999 to simply provide an outlet for Brett's sister, Pete's daughter, and their classmates to play the game of softball turned into something greater, two unlikely people co-founding a program together. By the time I sat down and met with Brett in the winter of 2007, the Extreme was home to a handful of softball teams ranging in ages from 10U-18U. They also had an indoor training facility that I could use to work with my students that winter. Meeting Brett opened up the doors for me. The Extreme Softball Training Facility became my home. I was also able to work with some of the girls playing in the organization. We would hit on Monday nights in the bitter cold.
That winter gave me a great opportunity to get to know the Extreme and the Collinsville area. Fast-forward 9 months and I was opening Turn 2 Baseball & Softball Training off of Horseshoe Lake Road, south of 157 in Collinsville. I fell in love with Collinsville, the girls I coached on Monday nights, and the thriving softball community. In fact, the first shirts printed with the Turn 2 logo were made that summer – purple shirts with a white Turn 2 logo. I remember handing them out to all the girls I trained that winter during the Extreme Classic (now the Tom Matysik Classic). At the end of the summer, Brett and I were talking seriously about him leaving college coaching and joining me at Turn 2. Brett also felt I would be a great coach for the 10U team that was losing their head coach. We talked about giving back, mentoring, and influencing young ladies in ways of character, integrity, and life lessons. Be a volunteer coach and make a real difference in the lives of these young ladies through the game of softball? I couldn't wait to get started!
I was really lucky my first year of coaching. I knew at the time I had some great things happening from awesome parent helpers & alumini, Ashley Vallero, an original member of the Extreme Organization being one of them, to coachable kids and supportive parents. Honestly, it wasn't until later that I truly came to appreciate everything that first year or two meant for me personally. As I reflect on coaching the 10U girls, I'm left with such admiration for the parents I had. They had my back at all times. I was a young person, a new business owner, and a first time head coach. I was full of passion, but I had zero experience on how to do "this." To celebrate a fun year, Ashley & I had a slumber party at Turn 2 with the 10U girls. We stayed up all night long. I think Ashley and I had as much, if not more fun, than the girls that night. For the first year or two I was in business, my outlets outside of work revolved around the 10U Extreme girls. I looked forward to team bonding events the most. Each event left lasting memories on my heart. We played laser tag, went bowling, had pizza parties, volunteered at different places, and went Christmas Caroling, to name a few. We did all this stuff that had absolutely nothing to do with softball. When the time came to finally take the field, we had our work cut out for us. I still don't know what our win/loss record ended up being, but I know we lost a heck of a lot more than we won. Every time we came off the field from a loss, I could see the disappointment in the girls' eyes. I remember watching them pack up the dugout and thinking to myself, "What comes out of my mouth next will influence these girls for years to come." That is a grave responsibility.
The self-image of kids, especially girls, is so fragile. Thankfully my instincts kicked in, and I sent us on a walk away from the field to a quiet place to talk. I found myself telling the kids about what wins and losses mean in the game of life. Some pretty heavy stuff for 9/10 year olds but the kids took it to heart and remembered it from that point on. The parents got the message, and after each win or loss, we walked out of the park together with our heads held high.
The parents who allow their kids to be influenced by people outside the family circle have my respect and admiration. The trust you show when you hand the keys over to someone, like my 10U parents did with me, is such an amazing gift. When you hand the keys of influence over to the right people, your child is shaped for years to come. I had those individuals in my life growing up. It started with the example my parents set and continued with the amazing people I got to grow up around and be coached by.

There is so much more to life than sports, and there is so much more to sports than wins and losses. If you allow it, life can emulate sport and sport can emulate life. It's what keeps me coming back year after year, and it's why I wear purple with pride. This organization allows me to mentor young ladies in more than the game of softball because the Extreme cares more about the people the kids will grow into than the win/loss record. That is why I'm here and continue to be here. The impact of great pillars in your son or daughter's life may not be understood until years later, but know that as an ex ball player, the people who were my pillars are with me every day of my life. Even though it may be years since I have seen a teammate, coach, or a parent of a teammate, they are still with me. I had some amazing pillars in my life and I encourage people to consider this when you watch a practice, team-bonding event, or a conversation someone has with your kid.
As I get ready to turn 35 years old in May, I am once again full of reflection. I love this game because many

people loved me through the trials and tribulations of the sport growing up. Keeping perspective when you are in a slump and encouraging your kid to keep going when it is hard adds value to their life for years to come. Lessons I learned and use today are from this game and the pillars that my parents surrounded me with.

Extreme Pride!
Jen "JD" Doehring
This is a question that many families struggle with in youth sports.  What is the right experience – Recreation or Select Travel Ball?  Families used to wrestle with this question when their child was around 12 or 13 years old, but now these talks start to take place around the ages of 7, 8, or 9 years old.  It is short sighted to just look at the league each plays in – one must consider the overall experience their athlete will have.
This question leads to many stressful discussions within the family.

This question leads to varying advice from those the family may seek for advice.

This question leads to strong opinions that get displayed on social media or in conversations in which one side of the question degrades the other side.
Here's an exercise for you to get the true barometer on this question . . . go to Facebook and search Select Ball Has Ruined Our Youth and read one side of the coin. Then, type in Rec Ball Has Softened Our Youth to read the other side of the coin.
First let's ask – what is the actual difference between rec ball and select ball? Make note of who you ask, because you are going to get a "pro-answer" from them on the side they lobby and vice versa. You will hear things like the cost is different, this one plays tournaments and that one doesn't, this one has better competition and that one doesn't, this one supports multi-sport athletes and that one doesn't. Unfortunately through all the debate everyone is missing the actual important question – what is the right experience my athlete should have.
The key in finding the right experience is establishing goals. Goals #1 should be around the love of the game. Only a healthy experience will provide a true love and passion for anything. Goals around having fun, recreation, and activity for health, competition, life lessons, teamwork, and leadership are all components of a healthy experience. Seek out the right experience, not the right tagline.
As a club, we have looked in to the environments and the experiences that the typical 6, 7, and 8 year olds are having in the game of baseball and softball in our region. Currently, the experiences that 6-8 year olds have in baseball and softball are very inconsistent. Some teams at these ages may:
Head down an aggressive path with burnout right around the corner.

Spend most of the time focused on the games and competition portion but neglect the development and team portion of the sport.

Get together for a small 2-month season and kids are picking 4 leaf clovers in the outfield.
We have designed our Junior program to provide the right experience for 6-8 year olds. It is a club-focused, all-inclusive program that provides the roadmap and monitoring needed to assure the right experience for our athletes and their families. We are not a select organization for 6-8 year olds; we are a club that walks hand in hand with the coaches and families to ensure the right experience in youth sports. The right experience should increase the love of the game for the kids each year they play, it should allow for them to pursue multiple sports building on their athleticism, it should combat burnout with a roadmap and a plan to develop the kids skills year in and year out.
It is time for parents and coaches to ask the right question – what experience do I want for my kid and team? That is a deeper question than – what league should they play (select/rec)?   When we ask families what experience do you want for your child at the age of 7 we get a answer that is genuine, with out the malice and frustration you see out in social media. We hear that the experience people want for their kids is very specific. They want their kids to get better at the game, be a part of a team, have a coach that loves the game, be taught some life lessons through the platform of sports, we want our child to enjoy some games and success, we want them to have fun and to fall in love with the game. That is the model that our Junior program has been built on.
We are working to educate families that the league (rec or select) is not the entire experience. The league your child plays in (rec or select) is only one component of the experience but it doesn't encompass the needs of the kids entirely. It leaves out the building blocks of sports – the teamwork, the life lessons, and the other characteristics we discussed earlier that are what we want to help families understand. What should your 6, 7, 8 year old do? They should play in a Junior program that follows the correct roadmap built around providing the 3D experience. The 3D experience provides the right physical and mental development at the right age.
Re-cap

Our sports culture has placed labels on different levels of ball (rec, select, AAU, etc.) – these titles do not represent a consistent experience.

Forget the name – pay attention to the experience. Make sure the experience is a building block for the future for your athlete in the sport.
The Softball Community welcomes SIU-E head coach Sandy Montgomery who will be joining Brett Swip as they discuss some of the hot topics around college recruiting. This is a free discussion for anyone that would like to attend. These two will have an "open mic" concept as they go back and forth on different recruiting topics, things recruiters see, what they are looking for in athletes, what they see in Midwest Softball and much more. This is simply and come and listen to vital information that comes straight from a D-1 coach, not so much a question and answer session. These two brains are not something you want to miss! This will take place at the VFW in Collinsville.
Sandy Montgomery from SIUE,
and Brett Swip from Extreme Baseball & Softball Club.
These two coaches will be having an open dialogue session to discuss the Midwest athlete and how they can increase their opportunities to be recruited for college scholarships.
Details
WHEN: Sunday, August 2nd
WHERE: Collinsville VFW, 1234 Vandalia, Collinsville IL 62234
TIME: 7 – 8 pm
COST: FREE
Why You And Your Family Should Be There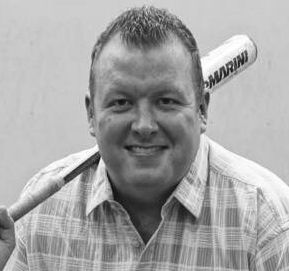 Understand firsthand how a college coach evaluates talent
Learn the responsibility of club and select teams in
developing recruitable players.
Gain perspective on the number of high-level scholarships available each year and how they are distributed Nationally.